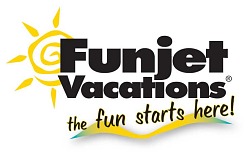 Let's face it. Everybody's idea of a great vacation is different. That's why we're proud to give you a variety of options to choose from. Like your choice of destinations, flights, hotels and much more. This way you can custom-design the vacation you've always wanted, at a price you can afford.
Whether you're looking for adventure, romance, relaxation, or spending quality time with your family, Funjet Vacations has a fun filled vacation that's right for you.
Go ahead....discover the world of Funjet Vacations!